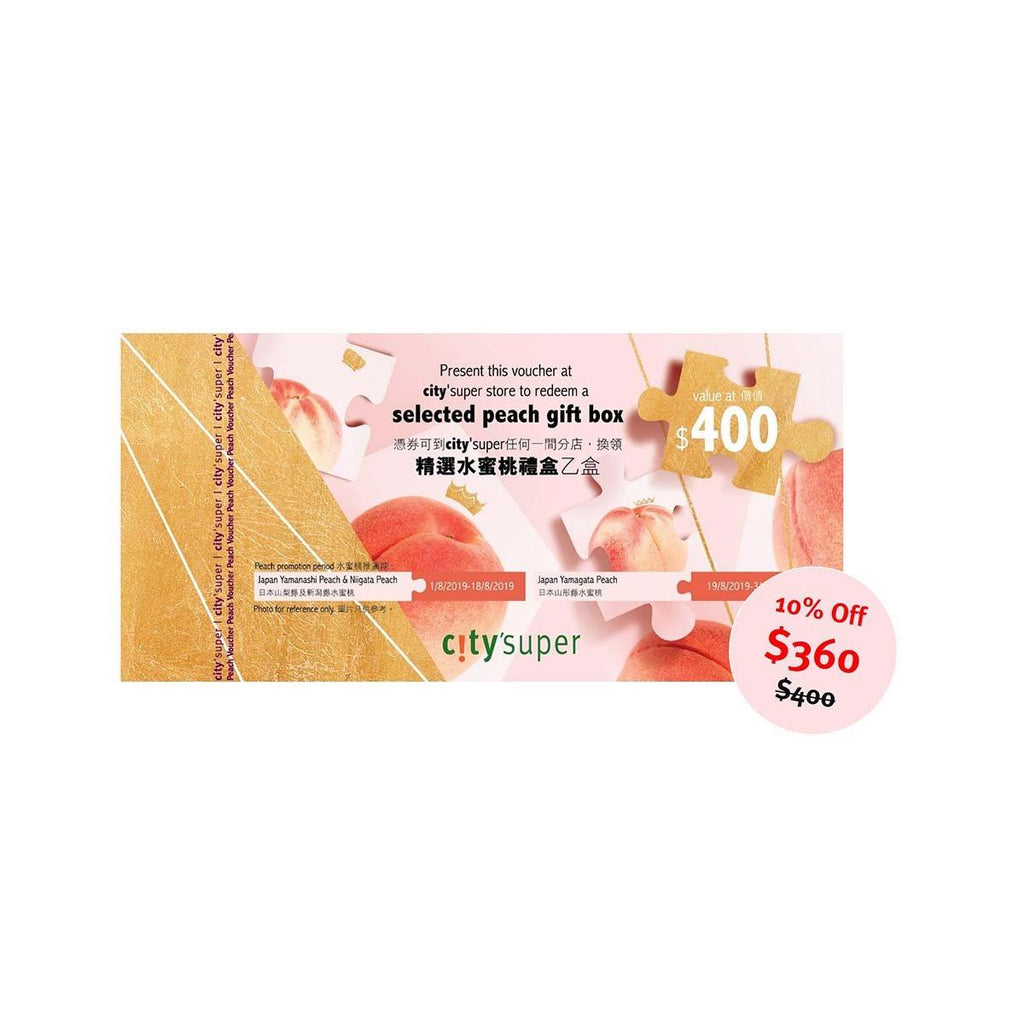 $400 Japanese Peach voucher (Redemption period: 1/8 - 18/8 – Japan Yamanashi Peach or Niigata Peach) (Special Price: $360)
Japanese Peach voucher (1/8 - 18/8)
Present this voucher at city'super store to redeem a selected a Japan Yamanashi or Niigata Peach Gift Box valued at $400.
Yamanashi is located at the south of Mount Fuji, surrounded by mountains that are over 2,000m. The production center here is Fuefuki which is famous for peach, grape and plum. It is located on a flatland at the south-east part of Kofu Basin. The extreme temperature difference here is suitable for fruit cultivation. ICHIMIYA is the production representative in Fuefuki. The most famous peach here is Hakuho Peach and Hikawa Hakuho Peach.
citysuper strictly select and directly source the high quality Yamanashi Peach from Japan. "Ohtouryou", "Premium", "ITTOSHO", all are the top grade of Yamanashi peach.
Highlight Peach – PinkPeach
Kasahara Farm is a direct farm of citysuper.It is located in Niigata prefecture, Japan.
Niigata prefecture is at the northeast of Japan. At May to June, which is the growing period of peach, the sunlight period is long and result in farming high quality peach.
Peach grown in the farm is very sweet and juicy with fine texture.
In season: Early August to end of September.
Highlight Peach – Golden Peach
Terms & Conditions
Due to Seasonal Issue, the stock for redemption while stocks last. In the case of insufficient stocks, City Super Limited has the right to use other peach gift box for replacement at any time without prior notice.
This voucher can only be redeemed at city'super stores in Hong Kong on or before the expiry date. (Redemption period is not available in 6 to 8th August)
This voucher can only be used for redemption of Selected Japanese Peach Gift Set valued at $400
This voucher can be used once only and will be collected after redemption.
The original voucher must be presented before payment. No retrospective arrangement will be made.
Damaged or photocopied voucher will not be accepted.
This voucher cannot be redeemed for cash or exchanged.
City Super Limited will not be liable for the loss, theft, damage and misuse of any issued shopping voucher. The voucher holder shall be solely responsible for all liabilities.
City Super Limited reserves the right to amend the terms and conditions without prior notice, and of final decision on all matters of disputes.
Available Stores:
Harbour City, Times Square, IFC, New Town Plaza
9327236001276
Store in cool dry place
*Photo for reference only.