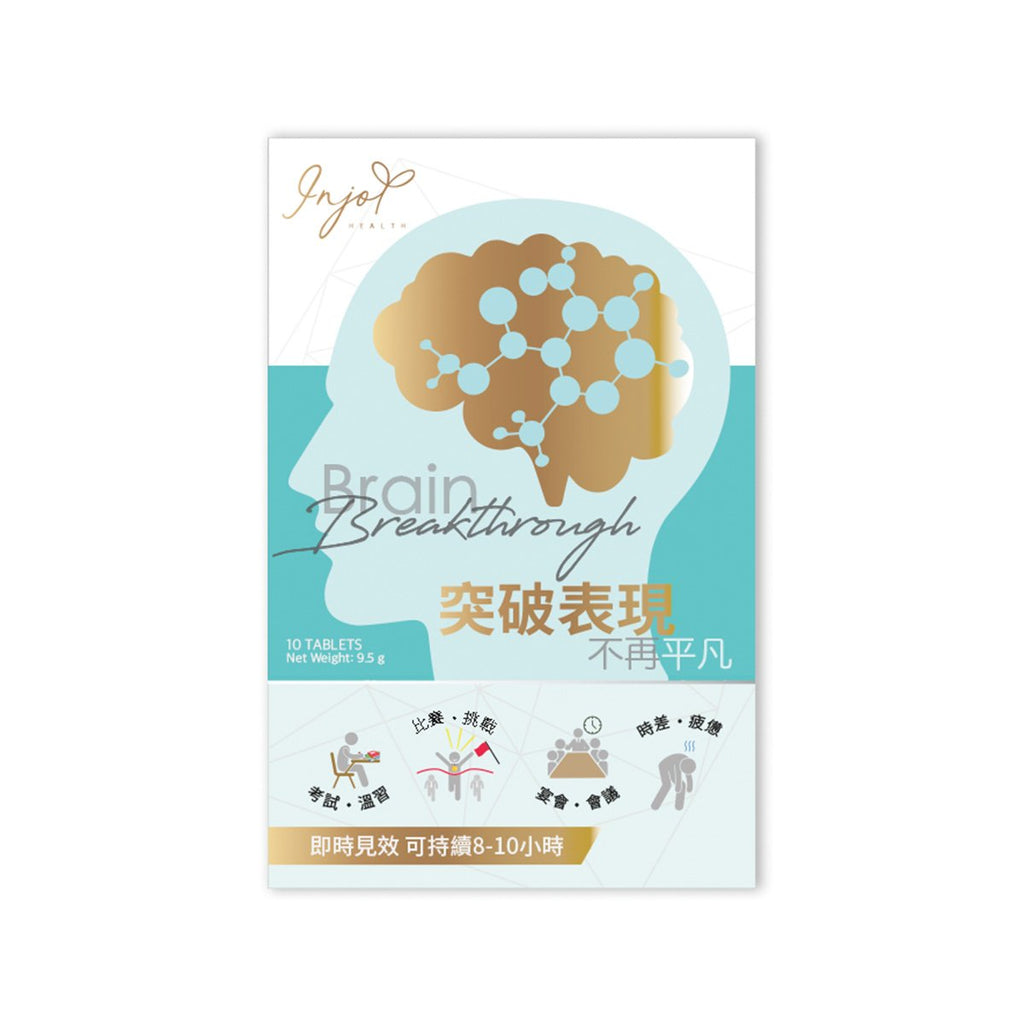 INJOY HEALTH Brain Breakthrough 10 Tablets
新一代全天然科研配方,迅速激活大腦
有效優化大腦運作功能,讓表現達至最佳狀態
突破表現(Brain Breakthrough)以歐洲製造全天然科研配方,有效極速優化大腦運作功能,令表現維持8小時頂尖狀態。
考試萬事俱備,只怕「臨埸有失」
溫習難以入腦,表現未如理想
工作表現平平,想要衝破瓶頸
你需要「突破表現」!
*多名用家試用一致讚好
新一代讀書神器 真正「聰明豆」,助你決戰DSE。
為子女做多一步 選擇「突破表現」令結果更有把握。
使用不含刺激物及添加劑之安全科學配方,將科研及草本精華完美結合,能即時激活腦細胞,提升腦力/智力。
內含營養成分更能令身體於晚間自然放鬆,安然入睡。
功能:
✓ 加速神經傳導・思路清晰敏捷
✓ 大腦注入能量・增強腦力
✓ 強化記憶專注・學習能力
✓ 精神持久穩定・調節作息
適合人士:
準備公開試及專業試人士
專業人士: 出席重要會議及宴會
時差,調節作息時間
運動員面對比賽時
Brain Breakthrough is a holistic brain optimizer to reach a state of peak in mental performance. No matter what you do or what you need, it adapts to meet mental performance demands that change from day to day and hour to hour. Brain breakthrough avoids all stimulants and additives for a safe, scientific backed up formula. It supports both immediate nootropic-performance needs and long-term brain health and function.
✓ New generation of patented scientific formulation
✓ Pure natural ingredients
✓ Activate brain power in a safe and healthy way
✓ Key Ingredients - Cognizin®: The use of citicoline is a natural way to energize and enhance mental performance without stimulant crash. Citocholine is well studied for balancing mood, memory, attention focus and concentration.
✓ Manufactured in Europe
Store in cool dry place
*Photo for reference only.